President Trump Speaks At "Salute To America" Event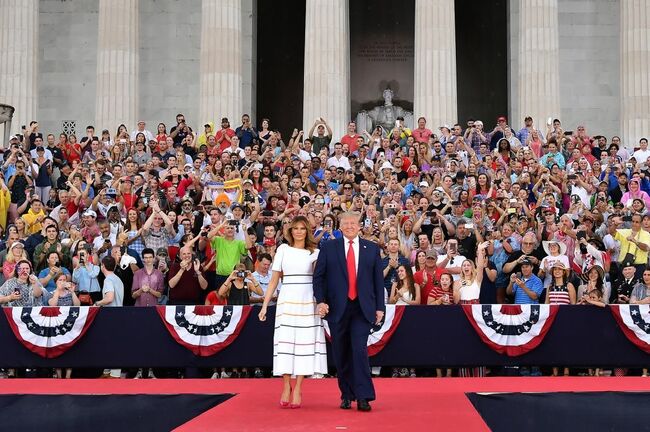 President Trump says America is stronger now than it has ever been before. Trump is spoke at a "Salute To America" event in front of the Lincoln Memorial in Washington, DC. Trump remarked that it's an occasion to come together as one nation to celebrate America's history and people, as well as its heroes in the military. He invoked the memory of General George Washington, who led the Continental Army in a campaign against British forces in the Revolutionary War. Trump said Washington's spirit lives on in every American. He also highlighted the legacy of American inventors Thomas Edison, Alexander Graham Bell, and the Wright Brothers. He remarked that for Americans, nothing is impossible.
President Trump paid tribute to several important Americans, both present and past. He invoked abolitionists Harriet Tubman and Frederick Douglass, aviator Amelia Earhart, senator and astronaut John Glenn and civil rights icon Jackie Robinson. He also highlighted civil rights protester Clarence Henderson, who was present at today's event. Henderson took part in the famous sit-in at a Woolworth lunch counter in Greensboro, North Carolina, in 1960.
Trump then turned his attention to each branch of the military, highlighting the important roles each play. After each mention of a branch, there was a flyover of military aircraft.
Photo: Getty Images

The Joe Pags Show
The Joe Pags Show originates from 1200 WOAI in San Antonio and can be heard on affiliate stations around the country and on the iHeartRadio app. Get his official bio, social pages, articles and more online!
Read more