READ: Pags Shares Thoughts on James Comey's ABC Interview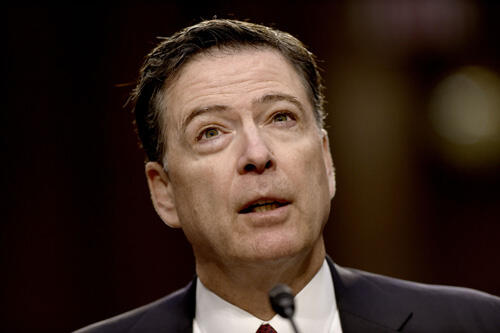 GETTY IMAGES
Just watched the Comey interview on DVR. I'm writing this before seeing or hearing anyone else's comments or thoughts while it's fresh in my mind. I want to congratulate ABC News, James Comey and George Stephanopoulos for a masterful job of promoting the interview. Even going as far as to call it an "event." ABC and its sponsors are sure to have hit a home run. Comey will be a millionaire many times over. As usual, the lead up far exceeded the actual interview.
I walk away from it with this general view -- This 6'8" grown man wants you and me to believe that he's Beaver Cleaver and President Donald Trump is Eddie Haskell. He was just saying "Golly Gee, Wall," as meanie Trump lied and cheated which shook the poor former FBI Director at his core.
Also in overview, the reporter showed his true Clinton loyalty as he pressed about how Comey basically got Trump elected because of his letter over the Clinton emails. He seemed to want Comey to apologize to Hillary Clinton for it. Most of the pictures used of our current president were unflattering and those of Clinton and Comey were mostly complimentary.
Now to specifics. There weren't many. It was mostly about Comey's feeling and/or sense of things and nothing really to bite into. It felt like a mob gathering -- but, then he'd say he wan't accusing the president of that. And, he felt the president was pushing for him to drop the investigation into Flynn.. but, admitted he never actually said it. He said the president isn't "morally fit" to serve in the office as he's answering questions from a guy who served for a long time under President Bill Clinton. As expected, no questions about the moral fitness of then-president Clinton nor his wife who was projected by everyone to trounce Trump.
I walk away clear on who Comey is. He's a guy who was convinced he was a lifer in the job if he chose. He does not like Donald Trump as a person (why spend time on his hair or skin tone or where he felt tanning goggles left a mark). He felt he was above reproach while acting either incompetently or was complicit when publicly exonerating Hillary Clinton on what he, himself admitted was very bad behavior. He is an admitted leaker and appeared to be proud of it. He gladly leaked then -- and reiterated tonight -- that he shared with the world the communication he had directly with the President of the United States IN THE WHITE HOUSE. I'm not a lawyer, but this very clearly seems to be illegal. A special counsel could probably examine this better than I. Perhaps Mueller can investigate his old friend instead of continuing the Russia Collusion non-story.
In closing, he talked about how this isn't who we are and it's hurting and polarizing the country. That was the true hypocrisy tonight. His very appearance to hock his book without regard to how his words and allegations could further divide our country shows clearly that he has no concern whatsoever for what he claims he fears.
Thoughts?
jp

The Joe Pags Show
The Joe Pags Show originates from 1200 WOAI in San Antonio and can be heard on affiliate stations around the country and on the iHeartRadio app. Get his official bio, social pages, articles and more online!
Read more