Legal Experts: Trump Damaging Administration's Travel Ban Court Arguments with Tweets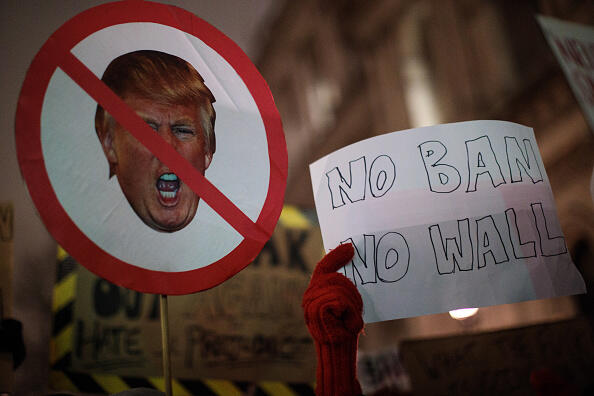 Credit: Getty Images
President Trump's tweets yesterday (June 5th) may have hurt his administration's argument in trying to persuade the Supreme Court to reinstate its blocked travel ban, according to legal experts.
In a series of early-morning tweets in the wake of Saturday's terrorist attack in London, Trump bashed the Justice Department for asking the Supreme Court to review the revised ban, tweeted,
"The Justice Dept. should have stayed with the original Travel Ban, not the watered down, politically correct version they submitted to S.C."
Trump also contradicted the White House and others in the administration who've said it's not actually a "travel ban" and have criticized the media for describing it that way. He tweeted, "People, the lawyers and the courts can call it whatever they want, but I am calling it what we need and what it is, a TRAVEL BAN!" Then last night he tweeted: "That's right, we need a TRAVEL BAN for certain DANGEROUS countries, not some politically correct term that won't help us protect our people!"
Trump's Justice Department has argued in court that the ban doesn't target Muslims, but his tweets seem to be suggesting the opposite. Travel ban opponents said these Trump's tweets on the issue actually help their case. The central part of the court argument is whether the ban discriminates on the basis of religion.
Trump's initial order banned travel from seven majority-Muslim countries and indefinitely blocked Syrian refugees. Trump begrudgingly scaled back the order by removing Iraq from the list and making the Syria refugee ban only temporary, but that order was blocked by the courts, too.

The Joe Pags Show
The Joe Pags Show originates from 1200 WOAI in San Antonio and can be heard on affiliate stations around the country and on the iHeartRadio app. Get his official bio, social pages, articles and more online!
Read more