The San Antonio Spurs' 22-year playoff streak has come to an end as the Spurs failed to make the playoffs this season. Despite that, Spurs Head Coach Greg Popovich said he was pleased with how his team performed in Orlando, saying they played their best basketball of the season.
Here were comments after their final game:
Spurs Head Coach Gregg Popovich:
(On the Spurs playoff streak and looking back at 22 years…)
"It means a lot to a lot of people, probably, but I don't dwell on the past. I don't know who won the baseball championship from year-to-year or four years ago, I don't know who won the NBA championship. That stuff's totally unimportant. What's important is the moment, you do what you got to do and then you move on. But looking at the past doesn't do much good. Any success we've had is because we've had some great players."
(On what he thinks about the future of the Spurs…)
"I'm more excited about this than anything you guys are talking about right now. Successes or non-successes, because the success of streaks or whatever you're talking about ended. I could care less about that. I'm thrilled at the way they played here. They supposedly had no shot to get into this thing and basically willed themselves into it to have this opportunity. The development of the young kids. DeMar [DeRozan] and Rudy [Gay] playing the way they did. This is the best we've played all year. I've really enjoyed it."
(On how the atmosphere of the bubble exceeded his expectations…)
"When it first was announced, I think all of us were in the situation of saying 'what' this is actually going to work? We're going to do this, too many moving parts, this is difficult. After you realize the work that the NBA put into this, it's incredible. The logistics, the safety measures, the discipline, everything they required from us. I told people the other day it's like going to bootcamp with a smile. They did just a fantastic job. Everybody is humble enough to hope that this continues of course, nobody takes it for granted. The players should get kudos for the discipline they've shown so far. It's just remarkable in every way, shape and form. That's been great. As I've said, I'm thrilled with the way our team played. I think, probably most people thought we were going to end up being 2-6 or 0-8 or whatever. We didn't have a great season. But the guys came back in shape. They came back committed. They wanted to turn a corner in a variety of ways, and they did so I'm really excited about it for our future."
Spurs Guard DeMar DeRozan:
(On how the team bonded during their time in the bubble…)
"First and for most, I'm proud of every single one of my teammates, came out here, took the challenge, made the sacrifice being away from their family. Going out here and competing every single night, putting ourselves in a position to come to the final game to be able to make a play-in. I couldn't be more happy. We had guys hurt, guys injured, guys here and having to leave. For us to be in this position, I couldn't be prouder of these guys."
(On the moment they realized their season ended…)
"It's tough. It's more so tough putting your faith in somebody else's hands. I could live with the fact that we went out there and it had to come down to us winning or losing and if we lost, I could kind of accept that a little bit more than watching other teams. You know, their starters not really playing and kind of giving the other team a chance to win. That was extremely frustrating.
(On his message to Spurs fans this year…)
"It's big. The loyalty that these fans have shown through these ups and downs, through this restart of everything. They've been here. Passionate. It sucks that we didn't have that chance to fight to try to really make a push for a playoff spot. They held us down. They've been here whether if it was virtual through social media, whatever it was. It makes you really miss your fans for sure."
Spurs Guard Keldon Johnson:
(On his rookie year after getting drafted by the Spurs…)
"I definitely feel blessed that I'm here with the San Antonio Spurs. This is a once and lifetime opportunity with an amazing organization. Like he said, it was fate that I ended up here and I knew coming to this organization they had a real plan for me. They looked at me and they told me they had a plan and got to it and got to the grind."
(On how long he will reflect on his time in the bubble…)
"As far as time looking at it, this is our last game of the season so of course we're going to look at the film. It's back to the grind as soon as we're ready to get back in the gym, I'll be there and ready to work. Ready to get better each and every day."
(On he approached the season as a whole…)
"I just came in and played basketball. I play to win. A winner's mentality. I have to do whatever it takes for my team to win. Just be aggressive and make the right plays. Play my game and just trust in my work."
(On how excited he is for the future of this team…)
"I'm definitely excited. I can't wait to get back on the court. Definitely just ready to work with the group that we have. When that time comes, we're going to be ready to go."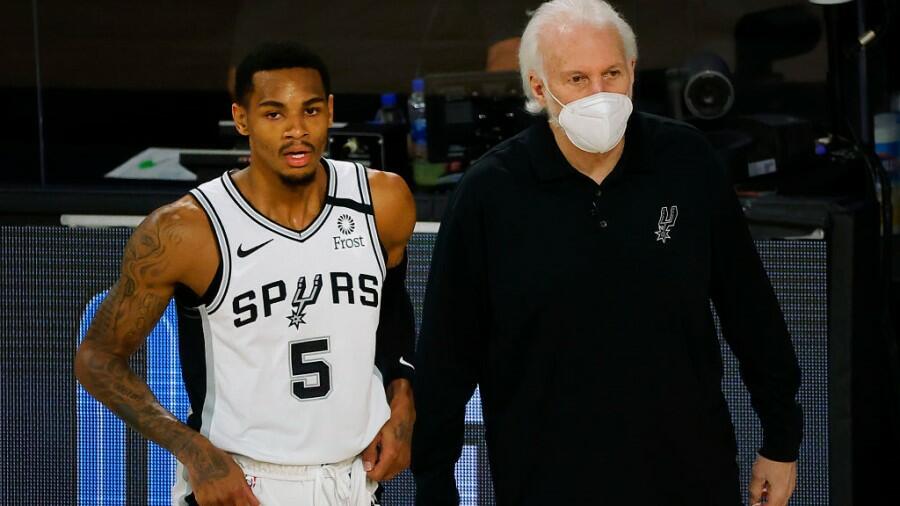 Photo: Getty Images