Notre Dame Cathedral On Fire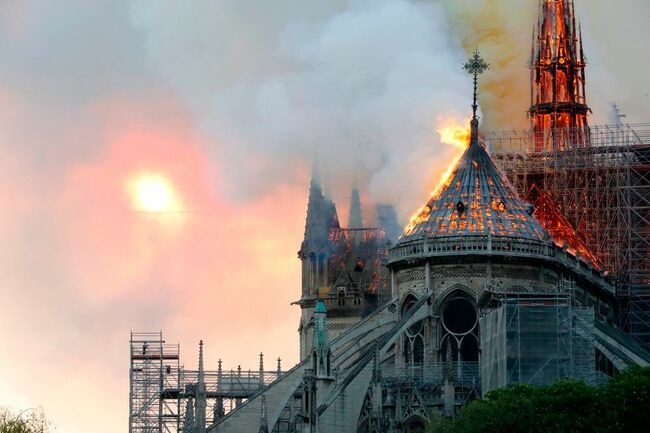 French Fire officials say they may not be able to save Notre Dame Cathedral. Over 400 firefighters are trying to save the remaining holy relics and whatever structures they can. It has stood in the heart of the city since the 12th century.  President Emmanuel Macron is on the scene to join the thousands of other Parisians who can only stand by and watch it burn six days before Easter Sunday. Many onlookers are in tears, gasping as the fire spreads and destroys another piece of history. 
A number of the religious relics associated with Notre Dame are said to be safe, while the fate of others, including some connected to Jesus Christ, is unknown. Last Thursday more than a dozen medieval statues were removed from the cathedral's spire at part of the renovation project. Sixteen nine-foot high statues representing the apostles and four evangelists were taken down by crane and shipped to southwestern France where they will be restored. The cathedral also contained several other holy relics, including what was said to be pieces of the original cross where Jesus was crucified as well as part of the thorned crown that he wore that day. The fate of those items, along with what was said to be one of the nails from the crucifixion is unknown.
Among those praying about the fire at Notre Dame Cathedral in Paris is Cardinal Timothy Dolan of the archdiocese of New York. Dolan tweeted that he went to St. Patrick's Cathedral on Fifth Avenue to pray for God to preserve the cathedral and protect those battling the blaze. Cardinal-Archbishop of Boston Sean O'Malley said he joins millions around the world watching the fire consume Notre Dame Cathedral. He said he prays for first responders and stands close to his friends in the Paris diocese.
Photos: Getty Images