San Antonio Killer Executed for 'Texas Seven' Prison Break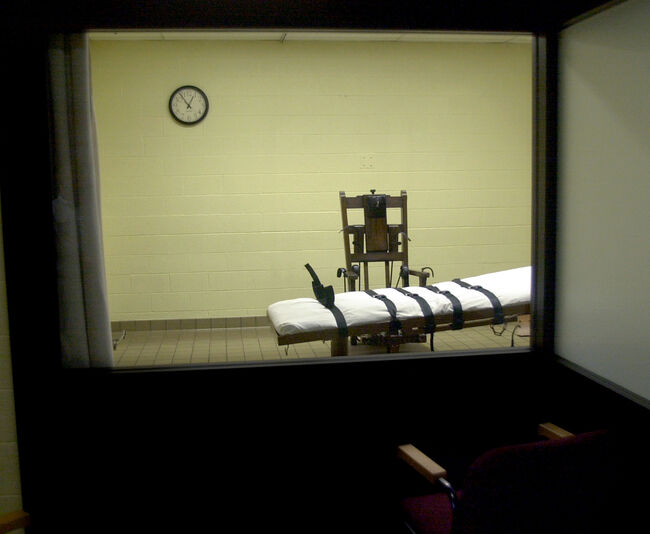 Joseph Garcia, a convict from San Antonio, was executed last night for his role in the infamous 2000 'Texas Seven' prison massacre in which a police officer was killed, News Radio 1200 WOAI reports.
Garcia was attempting to make a long rambling last statement as he lay on the guerney at the Walls Unit in Huntsville, when he paused for about a minute. Thinking he was done, the executioner pushed the button to begin the lethal cocktail of drugs flowing into Garcia's veins.When he realized what was happening, Garcia protested 'I'm not done yet' but it was too late and those turned out to be his last words.
Garcia was convicted under what is called the Law of Parties for the murder of Irving Police Officer Aubrey Hawkins by the gang, shortly after the escape from the Connally Prison Unit in Kenedy.
Garcia was waiting in the gang's getaway car when another escapee shot Officer Hawkins eleven times. Even though Garcia didn't fire the fatal shot, he was condemned under a Texas law that allows 'active accomplices' in a crime to face the same punishment as the criminal.
Irving Police Chief Jeff Spivey was on hand to watch the execution of the man who killed his officer.
"I don't think we'll truly recognize what justice looks like until we are done with this process," he told reporters after the execution. "When the last of the convicted murderers is put to death, which is what justice calls for in this case."
In a breakout which has been compared to the legendary 'escape from Alcatraz' in 1962, Garcia and six other convicts broke out of the maximum security Connally Prison Unit near Kenedy in December of 2000. All seven were serving lengthy sentences, mostly for murder.
The ringleader was another San Antonio convict, Michael Anthony Rodriguez, also of San Antonio. He was serving 99 years to life for a very high profile killing in San Antonio, the contract murder of his wife, who was gunned down in front of the couple's northwest side home.
Rodriguez' father provided the seven with a getaway car, for which he was eventually convicted.The seven used ploys to distract civilian employees and escape, piling into their car and beginning a crime spree that took them across the state.
It was while they were attempting to rob a sporting goods store in Irving and steal several guns that Officer Hawkins was killed.
The escape received national attention, and two months later law officers moved in to a mobile home in suburban Colorado Springs, where the seven were hiding.
One of the escapees killed himself before being arrested, but the other six were returned to Texas, and all were convicted of capital murder in the death of Officer Hawkins.
Garcia is the fourth of the six surviving escapees to be executed. Rodriguez was executed in 2008 after deciding to drop further appeals. The other two remain behind bars where they are awaiting execution dates.
IMAGE: GETTY