New Local USAF Command Heading Tyndall AFB Hurricane Recovery Effort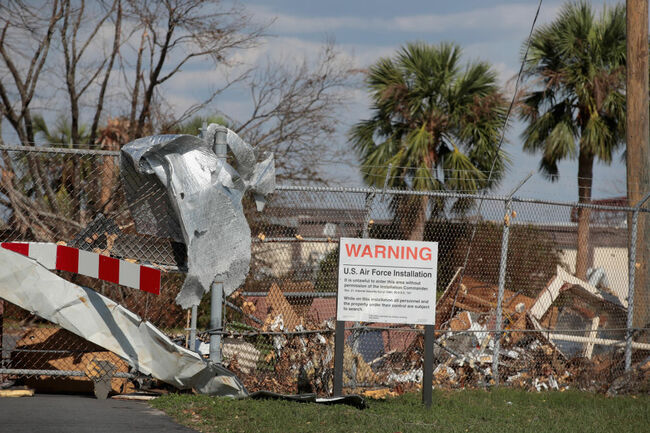 Tyndall Air Force Base in Panama City Florida, who was flattened by Hurricane Michael, is preparing to resume many of its operations on January 1, thanks largely to the newly created Air Force Installation and Mission Support Center, a new command headquartered at Lackland Air Force Base, News Radio 1200 WOAI reports.
Maj. Gen. Brad Spacy, the commander of the unit, says having a free standing command which can take the lead in helping facilities deal with tragedies like Hurricane Michael has many benefits.
"They can come to us and say 'we need this' and we can produce it," Gen. Spacy said. "As opposed to having to go to nine separate communities and pulling our support."
Numerous operations at Tyndall are preparing to restart operations, including the 601st Air Force Operations Center; the 337th Air Control Squadron; the Air Force Medical Agency Support team; the Air Force Office of Special Investigations; the 53rd Air-to-Air Weapons Evaluation Group; the Air Force Legal Operations Agency; Air Force recruiters; the 823rd Red Horse Squadron, Detachment 1; and the Air Force Civil Engineer Center.
Gen Spacy says the Tyndall operation shows the usefulness of his command, which was established in 2015.
"They don't have room to support excess capability," he said of Tyndall. "So you have to be able to send them the right amount of people and things at the right time."
Air Force Chief of Staff Gen. David Goldfein says by Christmas, military and civilian personnel will have 'certainty about their options' moving forward.Gen. Spacy says there were lessons learned in the Tyndall operation which could prove useful during the next natural disaster, or if the need arises to rescue a military facility which has been damaged by warfare or a terrorist attack.
"Some of its validates what we thought would be true, and some of it helps us prepare for things that we just didn't see coming at all."