Astros' Hinch Gets Extension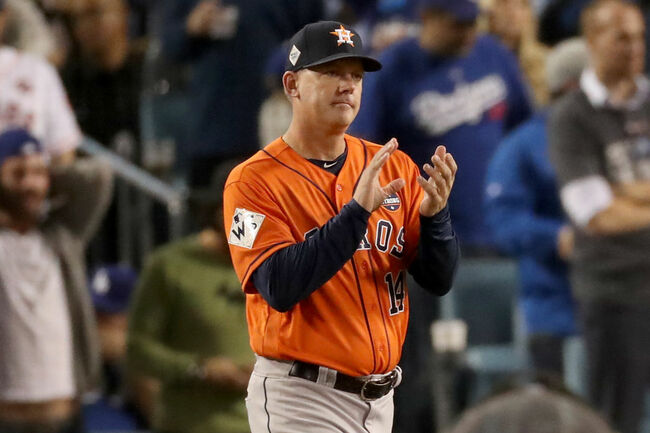 Astros manager A.J. Hinch is getting a contract extension. Since becoming manager in 2015, Hinch has guided the team to four winning seasons and a World Series title.
General Manager Jeff Luhnow announced Hinch's contract extension will carry through the 2022 season. Terms of the deal were not disclosed.
Since his first season as Astros skipper in 2015, Hinch, 44, has rapidly developed into one of the elite managers in all of baseball and the most successful manager in franchise history. In his first three seasons (2015-17), Hinch led the Astros to two playoff appearances, culminating with the first World Series title in the club's history in 2017. For his efforts, he was named Baseball America 2017 Manager of the Year and won the 2017 Esurance MLB Best Manager Award. He was also a finalist for the BBWAAAL Manager of the Year Award in both 2015 and 2017.
"We're thrilled to have AJ in the fold for multiple years," said Luhnow, who hired Hinch on Sept. 29, 2014. "AJ has played a key role in our team success and is one of the most effective managers in baseball. He is aligned with the vision of our front office,has made a great connection with our players, and has earned the respect of everyone in the clubhouse. Looking ahead, our goal is to win multiple championships. AJ is unquestionably the best manager to help us achieve this goal."
Entering today, Hinch's 353-266 overall won-loss record gives him the best winning percentage (.570) of any Astros manager in franchise history. His 14 postseason wins are also the most by any manager in franchise history. In 2018, the Astros have led the AL West for virtually the entire season as they look to repeat as champions.
"AJ has done a tremendous job since taking over our ball club," said Astros Owner and Chairman Jim Crane. "He knows the game extremely well, he knows his players and knows how to win. We have had a lot of success over the past three seasons, and AJ is a big reason. And, he has been very supportive of our off-the-field efforts as well. AJ has certainly earned this extension."
"This is extremely gratifying for my family and me," Hinch said. "Being in Houston has been a wonderful ride for us and we're looking forward to further cementing this as our home. This is a great organization – I appreciate all that Jeff and Jim have done to make this a positive and successful environment for me and my coaching staff. We have a great team on the field and the future is bright. I could not be happier."
Photo: Getty Images