Texas A&M Mascot Reveille VIII Dies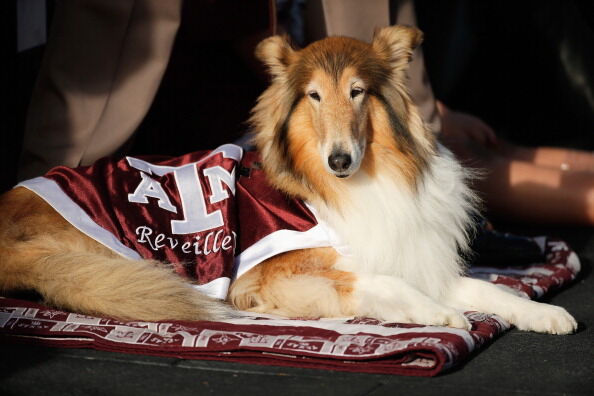 Aggieland is in mourning today, as the 'First Lady of Texas A&M.' Reveille VIII, has died, News Radio 1200 WOAI reports.
The Kansas born collie took over as the official symbol of the Aggie Nation in August of 2008, until she retired in May of 2015. She died under a veterinarian's care at Texas A&M's Stevenson Companion Animal Life-Care Center.
'Miss Rev' is a unique tradition at Texas A&M. She is the highest ranking member of the Corps of Cadets, with five silver diamonds, one more than the Corps Commander. Aggie tradition has it that if Reveille barks in class, the professor needs to end the lecture. If Reveille is sleeping in the bed of the Mascot Corporal, the Corps of Cadets members who is assigned to care for Reveille, the student has to find somewhere else to sleep because Reveille outranks the cadet.
The Reveille tradition began back in 1931, when members of the Texas A&M Corps of Cadets hit a dog with their car as they were returning to campus. They tried to keep the dog a secret, because dogs were not allowed in dorm rooms, but when the Corps bugler sounded 'Reveille' the next morning, the dog barked, blowing their cover. Hence the name.
Reveille IX is now in place to lead the Aggie band on to the field at football games.
Reveille VIII will be buried, along with her seven predecessors, on Kyle Field Plaza, from where, Aggie tradition has it, they can watch the scoreboard and celebrate Aggie wins.
Photo: Getty Images