McCain Lies In State At Capitol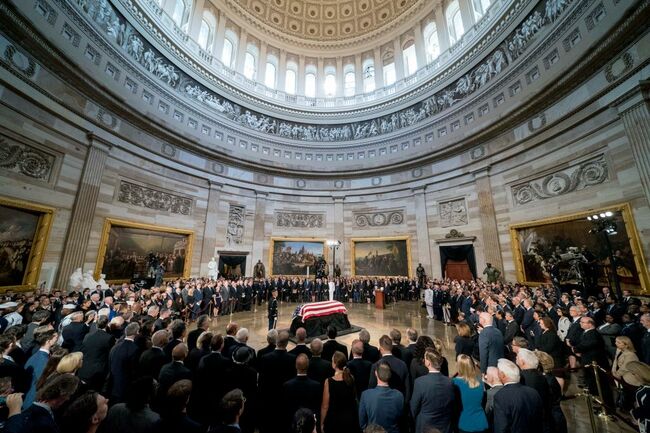 The late Senator John McCain is lying in state at the U.S. Capitol. In a ceremony this morning, congressional leaders and Vice President Mike Pence honored the veteran lawmaker and decorated war veteran. Pence called McCain an American patriot who devoted his life to public service. Senate Majority Leader Mitch McConnell noted that McCain was fiercely independent and always spoke his mind. House Speaker Paul Ryan called McCain one of the bravest souls the U.S. has ever produced. House Chaplain Patrick Conroy said McCain was a true American hero.
The 81-year old McCain died this past Saturday after a long battle against brain cancer. The Arizona Republican was a senator for three decades. McCain's flag-draped casket is sitting atop the Lincoln catafalque in the Capitol Rotunda. The catafalque was first used after the assassination of President Abraham Lincoln. There will be a memorial service for Senator McCain tomorrow at Washington's National Cathedral. He will be buried Sunday at the U.S. Naval Academy in Annapolis, Maryland.
Photo: Getty Images

The Joe Pags Show
The Joe Pags Show originates from 1200 WOAI in San Antonio and can be heard on affiliate stations around the country and on the iHeartRadio app. Get his official bio, social pages, articles and more online!
Read more