These Stats Show just How Much Our Smartphones are Stressing Us Out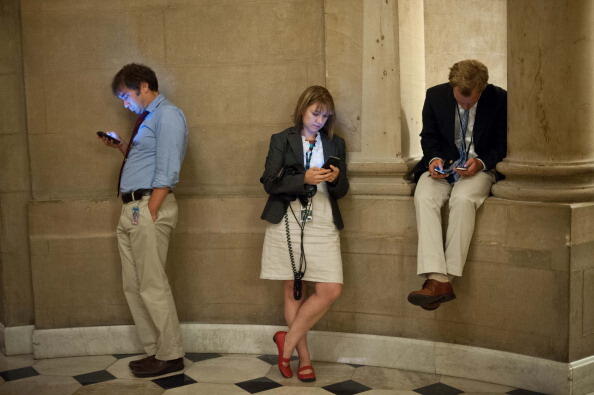 CREDIT: GETTY IMAGES
A new report from the American Psychological Association says that Americans are being stressed out by our smartphones, with four out of five adults saying they constantly check their email, texts and social media. The APA's survey found that people who are always looking at their phones, who are dubbed "constant checkers," reported higher levels of stress than people who spend less time with their digital devices. Spending time on social media also seems to affect people's stress, with 42 percent of constant checkers saying that social media conversations about politics and culture cause them stress, compared to 33 percent of people who are on social media less often. Among other results:
42 percent of constant checkers worry about how social media can impact their mental and physical health, but only 27 percent of less frequent users say the same.

Nearly half of parents say they feel less connected to their family when technology is present, even if they're spending time together.

Nearly two-thirds agreed that occasionally doing a digital detox is good for their mental health, but only 30 percent say they actually do it.
The survey also found how we're trying to "unplug" . . . for at least a few hours a day.
28% of us don't allow cell phones at the dinner table . . . 19% won't use their phone when they're with friends . . . and 19% have turned off the notifications for their social media apps.

The Joe Pags Show
The Joe Pags Show originates from 1200 WOAI in San Antonio and can be heard on affiliate stations around the country and on the iHeartRadio app. Get his official bio, social pages, articles and more online!
Read more