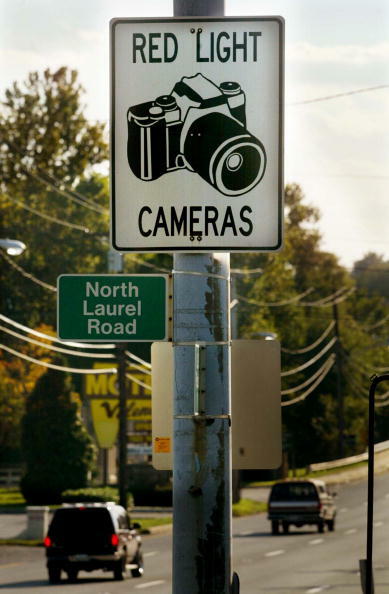 The cameras were rolling as Gov. Greg Abbott signed, ironically, a bill to abolish cameras...of the red light variety, News Radio 1200 WOAI reports.
"I am about to sign this bill that bans red light cameras in Texas," Abbott said, adding his name to the legislation. "It is now law."
House Bill 1631, sponsored by conservative Republican State Rep. Jonathan Stickland (R-Bedford) ends a ten year long effort to bring an end to the traffic enforcement systems, which opponents have long said are unfair, unconstitutional, and a sneaky way for suburban communities to squeeze money out of motorists who are passing through their towns on their way to work.
The cameras are most frequently installed in suburban communities which are located on main arteries into and out of major cities, in Bexar County, the two communities that operate them are Leon Valley and Balcones Heights.
They argue that the cameras are simply an other use of technology to enforce the law, no different than the use of RADAR to stop speeders. They say the cameras allow them to deploy their limited staff of police officers to other duties, and insure that the intersections in their communities are as safe as possible.
They say there is no constitutional right to violate traffic laws.
Motorists have argued ever since the cameras become legal in 2007 that they are simply a way to squeeze money out of harried commuters. Many have argued that the cameras make intersections less safe by encouraging rear end collisions.
But the main argument, and an argument that has gained traction in the courts, is that the cameras are unconstitutional because they deny the motorist his or her right to confront the accuser in court. A civil matter, the cameras photograph the license plate numbers of cars that are running red lights and mail a ticket, usually for $75, to the registered owner of the vehicle.
The laws signed by Gov. Abbott allows communities which have long term contracts in place with camera operators to keep the cameras up and operating until the contract expires, unless the contract, as many do, includes language allowing it to be terminated if the state declares the cameras to be illegal.
But the companies may not want to keep the cameras up. The law that was signed also prohibits counties from withholding the registration of vehicles with outstanding red light camera tickets, which up until now has been the only way the tickets can be enforced. As a 'civil fine' the tickets are not subject to 'warrant roundups' and you cannot be arrested for not paying one.
The red light camera operator could go after the motorists' credit rating, but that would be a costly effort for a $75 fee, and many credit organizations have said they will not use complaints by red light camera operators in figuring a person's credit score.
IMAGE: GETTY