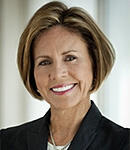 There have been four mayors, and more than forty members of San Antonio City Council come and go since the last time there was a vacancy in the City Manager's office, but today is the last day of the 13 year tenure of City Manager Sheryl Sculley, News Radio 1200 WOAI reports.
Sculley, who is 66, is retiring today after a successful tenure which has been marked from even before it began with controversy over her salary.
Sculley declined a job officer from Mayor Ed Garza after two members of City Council, including Julian Castro, balked at the salary Sculley was to be paid. After Phil Hardberger defeated Castro and the mayor's job in 2005, he worked out a unanimous consensus of City Council and Sculley arrived from Phoenix on November 7, 2005 to take the job as the City's top administrator.
During her more than 13 years in that post, Sculley has been credited with being at the heart of many of the developments which have transformed San Antonio. Her decision to transform the Convention and Visitors Bureau into Visit San Antonio is seen as a turning point in modernizing the city's critical tourism and convention business, and she also spearheaded the major expansion of the Convention Center.
Under Sculley's tenure, the city's civilian staff was trimmed and the departments and job descriptions were modernized. At the same time, the ranks of public safety professionals like police officers and firefighters grew to meet the city's enormous growth.
And it is the management of that growth that posed one of the largest challenges during Sculley's tenure. For much of the middle part of this decade, San Antonio was the fastest growing major city in the entire country, leading to major public debates about everything from transportation to infrastructure. Throughout the growth, Sculley managed to build, and largely maintain a prime AAA bond rating for the city's bonds, which leads to lower bond issue interest payments for taxpayers.
Sculley also led the way in the significant development of the city's downtown which has occurred over the past decade. She put together a controversial agreement for the city to buy the current Frost Bank tower to consolidation city offices, opening the way for construction of the new Frost Tower. She oversaw construction of the Haven for Hope, worked with developers to craft the Pearl project, which has helped grow the local tech industry, and was behind the major push by UTSA to vastly increase its presence at the often overlooked west edge of downtown. She was also behind several projects that led to far more residential properties downtown.
But despite it all, Sculley has been dogged constantly by complaints about her salary, which topped out in 2018 at $475,000, with the possibility of a bonus of up to $100,000, which she turned down last year.
The San Antonio Professional Firefighters Association, which has always had a keen ear for what in city government rankles taxpayers in their 'dinner table' conversations (see: downtown streetcar), leveraged discontent over Sculley's salary into two victories in three divisive charter amendments voted on in November. The only supporter of the charter amendments on City Council was long time Sculley critic Greg Brockhouse, who has now announced he will run for mayor.
In late November, Sculley announced her retirement, effective today.
Sheryl Lee Sculley is a graduate of Ball State University in Indiana and Harvard University's Kennedy School. Before coming to San Antonio, Sculley had city management positions in Kalamazoo and Phoenix. She and her husband Michael, who is a former Bexar County official, plan to remain in San Antonio.
Erik Walsh, who has been Deputy City Manager for five years, will move into the corner office at City Hall tomorrow.