Defense Secretary Travels to Texas-Mexico Border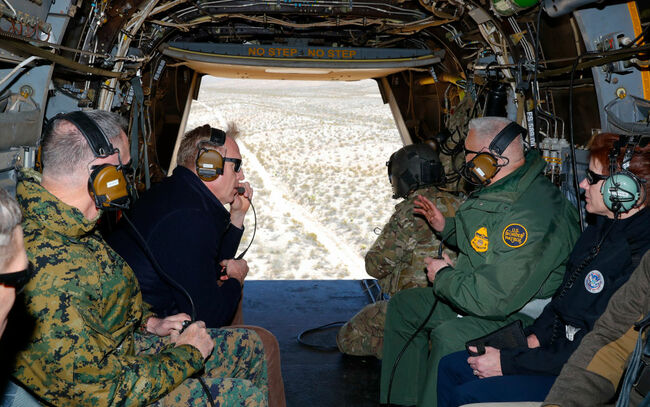 Acting Secretary of Defense Patrick Shanahan made a trip to the border today. Shanahan made the trip to visit troops on the border and sites where the Department of Homeland Security has requested Pentagon assistance to combat drug smuggling. Shanahan was joined by Gen. Joseph F. Dunford Jr., chairman of the Joint Chiefs of Staff, as well as other officials.
President Trump vows to veto any congressional resolution that aims to block his declaration of a national emergency at the southern border. Speaking at the White House yesterday, Trump again argued that the U.S. needs a border wall. House Democrats plan to vote on a resolution of disapproval next week. Under the emergency declaration, Trump hopes to divert Defense Department funds to help build a massive border wall. 
Top Photo: Acting Secretary of Defense Patrick Shanahan, center, Joint Chiefs Chairman Gen. Joseph Dunford, left, and El Paso Sector Chief Aaron Hull, right, aboard a helicopter tour of the US-Mexico border area west of El Paso. (Getty Images)
Bottom Photo: Acting Secretary of Defense Patrick Shanahan, center, talks with El Paso Sector Chief Aaron Hull, right, as they walk across the tarmac at El Paso International airport after doing a Osprey aircraft tour of the US-Mexico border, February 23, 2019 in El Paso. (Getty Images)