O'Rourke Now Hedging on His 'Won't Run for President' Pledge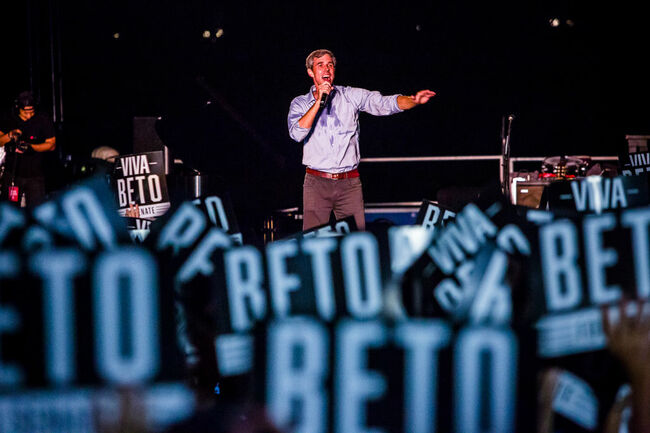 Less than a month after coming in a close second in his very closely watched U.S. Senate contest, U.S. Rep. Beto O'Rourke (D-El Paso) appears to be reconsidering his claims during the campaign that he has no plans to run for President in 2020, News Radio 1200 WOAI reports.
At his first Town Meeting since losing his race to Republican Sen. Ted Cruz, O'Rourke was asked by a supporter if he is reconsidering his political future.
"Today I come here for only one reason," a supporter said to loud cheers from the crowd. "I want you to be the President."
O'Rourke didn't respond to the encouragement, instead pointedly declining to answer the man's suggestion. Later in the town meeting, O'Rourke said is will 'wait until his time in Congress is up' before deciding on his future.
O'Rourke did not seek re-election, which means his term in the House ends at the end of 2018.
O'Rourke may be responding to growing calls for him to bring his charismatic campaign to a national level. During the Senate campaign, O'Rourke energized Texas Democrats, bringing people into the political process who had little interest before. In fact, O'Rourke is credited with creating the 'straight ticket' landslides in Bexar and Tarrant counties which swept entrenched Republicans out of office.
A recent poll of nationwide Democrats listed O'Rourke number three, behind Joe Biden and Bernie Sanders, as the person they would most like to see win the Democratic nomination in 2020, and he has already fielded invitations to campaign in Iowa, the home of the nation's first nominating cuacus, which is coming up in only 14 months.
IMAGE: GETTY