Pregnant Widow Sees Sign From Late Husband On Maternity Photos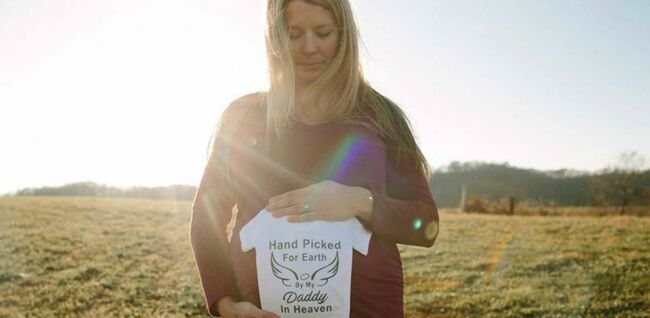 Kelly Luethe lost her husband Jarrett on August 24, 2017, in a car accident. The couple was expecting their third child.
Kelly decided to have a maternity shoot despite never having one with her first two kids. While Jarrett could not be there in person, the spine-tingling photos reveal that he was there in spirit.
When Kelly and her photographer, Jessica Brandau, were looking at the photos, they noticed something absolutely amazing. In the photos, there is a green orb and a rainbow. The rainbow is never too far from Kelly's belly. In many photos, it's right over her belly or across her hand.
Kelly took this as a sign from her husband that he was with her and their children. "I knew then Jarrett was there," she told Cafe Mom. "It really gave me goosebumps."
Not only is it amazing that the rainbow was present in the photos, but her third child is also a "rainbow baby." The mom recently went through a miscarriage but then had a successful pregnancy — which many parents refer to as a "rainbow baby."
Keep scrolling to see the gorgeous photos.
Facebook / Jessica Brandau Photography
Kelly and Jarrett Luethe were married on September 10, 2016, in Tomah, Wisconsin.
GoFundMe
The couple had two beautiful children named Ashton and Kennedi — and one on the way. Sadly, on August 24, 2017, Jarrett was killed in a car accident.
Facebook / Jessica Brandau Photography
Kelly posed for her maternity photos with photographer Jessica Brandau. While Jarrett was not there in person, after seeing the photos, the widow knew he was there in spirit.